Digital Marketing for Law Firms
San Antonio, Texas
360°Approach to Digital Marketing for Law Firms, Medical Practices, and... Your Business!
dNOVO Group – Law Firm Digital Marketing Agency - Leading-Edge Solutions For Building Your Firm's Brand
dNOVO Group works San Antonio law firms to develop and implement detailed and effective digital marketing strategies. We bring in-house experience to law firms of all sizes for a fraction of what it would cost to maintain an in-house marketing staff. Areas of expertise include:
Criminal Defense



Business and Litigation
Intellectual Property
The marketing strategies we use will be based on your mission and goals. By identifying your ideal client, we will work with you to create a web presence that does you and your firm justice.
We
Deliver.
Don't Take Our Word for It.
Our Customers Love Getting Results
Kate Miller

Great job, guys! Thank you for my new super awesome website! I've got so many compliments from my clients! You are the best! 🥰🥰🥰
Walter Alicea

These guys are real pros when it comes to law firm marketing! I was referred to them by my colleague, whose website skyrocketed over past year. He was bragging how many leads he has been getting and how happy he was with their work. I own a small kitchen and bathroom reno company and just started working with them, the results look very promising so far.

John D

dNOVO has worked great for our law firm. Shamil and his team helped to guide us through all of our initial questions and have been great to work with. Our web presence has gone up since we started with them and we have seen nice growth in our business from being more visible.
dNOVO Group is a full-service law firm marketing agency dedicated to helping lawyers in and around San Antonio build their brand, grow their practice, and increase revenue. A core service is the design and development of visually-appealing and mobile-friendly websites.
Whether you're a sole practitioner with high ambition or an established multinational law firm needing a revitalized website, let us use our years of experience in digital legal marketing to efficiently and predictably grow your business.
We have worked with individual attorneys and law offices across the United States and Canada. Our portfolio is full of case studies that showcase the successes we have achieved for our clients over the years.
GRILLO LAW
dNOVO Group was entrusted to create new brand identity for an established firm, as well as generate new business through search rankings, google local listing optimization and paid search marketing.
The challenge was to develop from scratch and maintain strong positions through SEO marketing for an exceptionally competitive field of personal injury law.
Read The Full Story
YEGENDORF
Yegendorf and Associates has been the leader in Personal Injury Law in the Ottawa Valley for almost two decades.
The firm is well known in the community and in the local media.
dNOVO Group was chosen as a digital marketing partner to propel the firm further in the online world...
Read The Full Story
MATTHEW JEFFERY IMMIGRATION
Matthew Jeffrey, Barrister & Solicitor, a Canadian immigration lawyer based in Toronto, Canada was looking for a way to improve the firm's position in search engine rankings, drive more traffic to the firm's website and improve conversion.
The goal was to establish the firm as authorities in its field...
Read The Full Story
SMILES ON QUEEN
Smile on Queens Dentistry is a brand new clinic that brings high-quality dental and cosmetic services to the residents of Bolton and Caledon.
dNOVO Group was selected to provide digital marketing services and aid in kick-starting the firm's branding through implementing a complete 360° online marketing campaign.
Read The Full Story
Get Features, Receive Traffic and Links From Places Like…
"Working with dNOVO Group made me realize how important it is to have a solid marketing team on your side when growing your business… it was a game changer decision to have them on board!"
Emanuele Pezzillo
Grillo Law, Marketing Manager
"In addition to excellent SEO, Shamil has helped direct my dental practice in the right direction."
Dr. Adam Chapnick
Molson Park Dental
"I must say working with the team at dNOVO is an absolute pleasure. They are responsive, always available, and truly aim to not only fill checkmarks but make sure both the website and the marketing campaign brings ROI."
Dan Kimia
Fireplace Store
How Do We Make You Stand Out?
1. Maximize Brand Recognition
The best legal marketing strategies start with solid branding. We make sure that your firm's name is associated with excellence in your field.
2. Attract Clients
A website designed for conversions will grow your client base organically and increase your business. When you stand out on the search engine result pages, you stand a better chance of getting that client call.
3. Build Authority Naturally
A sound organic search strategy will expand your client base and set you apart from the competition. When someone searches for a San Antonio lawyer in your field, we make sure they find you.
4. Think Mobile
When most people want to find a San Antonio attorney, they use their smartphones. A mobile-friendly site design is paramount. We make sure that your website looks great on all mobile devices.
5. Increase Client Engagement
We help you make the most of your social media platforms. Develop relationships with your clients that encourage referrals.
6. Stand Out Online
Use the power of the Internet to stand out. An attractive website, active social media presence, and ongoing best SEO practices can get you to the top and keep you there.
7. Gain Referrals
Referrals are the natural outcome of client trust. Let us show you how to build it.
We Know Legal Content Marketing
We Are A Full-Service Legal Marketing Agency That Has What You Need To Grow.
Responsive websites that encourage clients to contact you about their legal matter
Proven SEO strategies that make you visible on Google and other search engines
Paid Search Marketing Services (PPC) to give you extra visibility
Social media marketing that raises your profile among clients
Online reputation monitoring and management
Video production services that show off your offices and your team
Content writing for your website, blog, and special downloads
Digital press releases sharing firm news and information
Working hard to deliver more CLICKS, LEADS and CLIENTS!
Marketing and SEO Solutions for San Antonio Law Firms!
Are you frustrated due to lack of results from other marketing agencies? At dNOVO Group, we have helped countless clients across North America enjoy more success and acquire more new clients by strategically leveraging the power of the interne
We will work with you to create a marketing approach that features:
Branding that's compatible with your practice (e.g. family law vs. commercial litigation)
A website designed to inspire conversions
Creation and promotion of high-quality media like video
We've been doing internet marketing for over a decade and have learned a lot about the natural actions of site users. Let us use our expertise to develop a unique marketing strategy that will get you clients and grow your practice.
We Help San Antonio Law Firms Succeed.
Your Office Is Unique. So Are Your Marketing Solutions.
Did you know that 55% of referrals will research you online before contacting you? To ensure that you make the best possible impression, we develop a marketing strategy with expert feedback from our Advisory Board, which consists of accomplished attorneys in a wide range of legal specialties.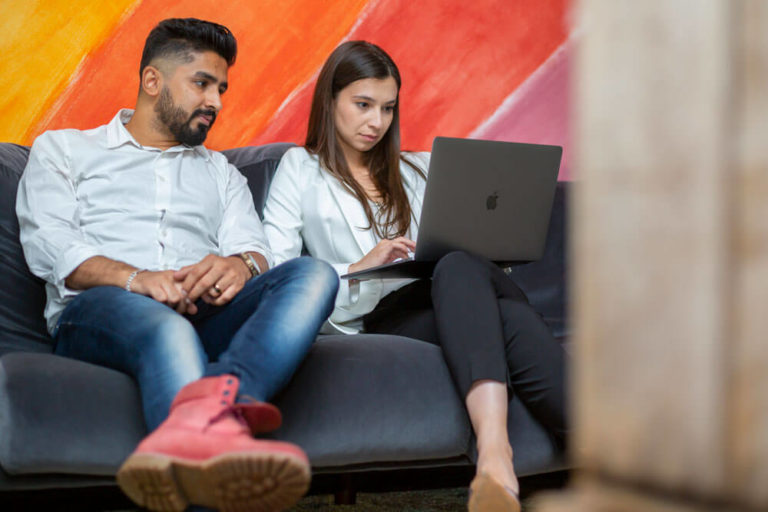 Your Digital Marketing Journey Starts Here
Website Designs That Work For You
Your website should be an accurate reflection of your firm's personality and accomplishments, not based on template that's been endlessly recycled. Our phenomenal web design team goes the extra mile to separate you from other San Antonio firms that practice the same legal specialties.
Developing A Site That's 100% Unique
Once we have a solid understanding of your firm's goals and how you bring value to your clients, we create a website that clearly conveys your expertise in whatever areas of the law you practice. The message will be immediately clear to all site visitors: they will be dealing with expert attorneys who will bring about the best results for their case.
Our strategy includes a thorough analysis of the competition, so that the site we build surpasses theirs in look, feel and, of course, results. Once you approve the final version, we will launch it and keep a close eye on the analytics to ensure that the results continue to be what you expect.
All modern legal marketing strategies include a unique and well-designed website. You only have one chance to make a good impression, as the saying goes, and dNOVO Group will use all of its marketing and creative experience and expertise to make sure that your San Antonio firm's website makes visitors look no further.
Responsive Websites Optimized For All Devices
Nearly everyone today owns a smartphone and uses it to source everything from groceries and vacations to healthcare and legal professionals.
dNOVO Group designs appealing and user-friendly websites that utilize the latest technology and the best conversion practices being used by the web design industry. We make sure that your site displays flawlessly on a wide range of mobile devices.
Give Clients What They Want and Need
Your website should generate leads and result in new cases. We take your firm's best elements and past successes and showcase them on your website.
Years of experience in legal website design and development has taught us what prospective clients expect to see when they visit a website. All of these insights factor into the final design and content.
We have built several legal websites over the years and use proven design formulas to build and maintain your San Antonio law firm's online presence. We will also work with you to add valuable and optimized content on a regular basis.